Skip to Content
Why Brands Should Add QR Codes to Their Marketing Strategy
By now, you've probably seen a QR code in the wild, whether on physical product packaging, a website, or a store or restaurant window. These strange-looking squares might seem complex or not so user-friendly at first glance, but they can actually be your brand's best friend! Imagine being able to pack a small website's worth of information into a tiny, scannable square. And all your customers have to do is point their phone at it – it does the rest.
Keep reading to learn more as we demystify QR codes and explain why they're a small but mighty addition to your broader digital marketing that helps streamline your customer experience and drive sales.
First Things First: What Is a QR Code?
Quick Response codes, or QR codes, have been around since 1994 and are matrix barcodes that can be scanned just like a traditional barcode. The key difference is that QR codes store information and media that mobile users can easily access with their smartphone cameras. This information can be anything from your restaurant menu to your website URL to online payment options for your products and services. 
How Can QR Codes Level Up Your Marketing?
1. They Help Your Print Materials Say So Much More
Strong print marketing walks the fine line of communicating essential information to customers without looking cluttered or visually confusing. Adding a QR code to your brochures, flyers, business cards, or storefront means you can expand on the information in your print materials as much as you'd like in a digital space. It also boosts your reach with mobile users – in 2022, 83.4 million smartphone users scanned a QR code, and experts expect that number to increase to 99.5 million in 2025.
2. They Let You Share Different Media in One Place
Think of QR codes like a key that can unlock a world of multimedia content for your customers. A quick scan with a smartphone can direct users to a video showcasing your products in action, an audio recording explaining the product's features, or an interactive landing page with infographics and virtual tours of your store. 
These codes offer customers a personal tour of your brand and make it easy for them to access all of your content in one place, making them a convenient, cost-effective way to provide your audience with an interactive and immersive experience.
 3. They Allow You to Easily Measure Effectiveness
Marketing teams know it can take a while to glean helpful data analytics about their marketing and ad campaigns. QR codes offer the massive benefit of quickly tracking the effectiveness of your marketing by allowing customers to interact directly with your brand in a measurable way. For example, placing a unique QR code on a neighborhood flyer lets you track the number of scans of the code for that particular material.
Or, if you want potential customers to visit your company website, you can use a QR code linked to a specific landing page and measure those sales and clicks. (Speaking of sales, QR codes also make paying and accepting payments super easy!) Tracking these metrics allows you to see how many customers interacted with the QR code and help you measure the effectiveness of your marketing campaign.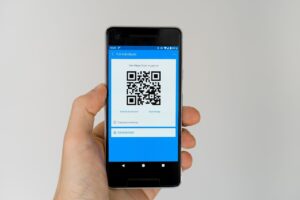 Hausbeck Brand Can Help You Enhance Your Marketing Strategy with QR Codes
There are tons of free QR code generators and tutorials online, but the real work is creating polished, perfectly optimized content to link to the code. That's where we come in! There are infinite ways to tailor your QR code content to your specific brand voice, and our expert team is ready to work with you to enhance your existing marketing or design and execute a brand-new strategy.
Be sure to check out all of the services we offer, and contact us today to schedule a consultation. Let us help you hack the QR code matrix and take your marketing to the next level!